Omaha Mayor Jean Stothert has designated October 19th-25th as "Family Dining Week" for the second year in a row, and is calling out to Omaha families to take the "Family Dining Pledge." This pledge simply asks that you and your family commit to eating more home-prepared meals together… and taking the pledge will give you the chance to enter in giveaways with some pretty sweet prizes.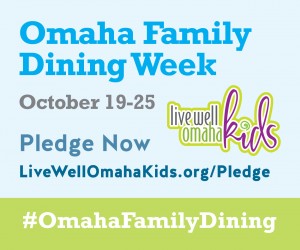 Speaking of prizes… Live Well Kids Omaha has given me a $15 Hy-Vee gift card (enough to cover one or two home-made meals) to one of my lucky, pledge-making readers!  All you have to do is hop on over to this link to make the pledge, then come back here and tell me about it in the comments! I'd love it if you'd share what your favorite meal is to have at home with your family, while you're at it! I'll randomly select a winner on Saturday the 25th!
I really wanted to have some meat to this blog post, in addition to the giveaway details… and thought maybe some meal-planning tips would be helpful. I think, though, that there will be plenty of tips in some of my fellow bloggers' posts that would be far more efficient than mine. So, instead…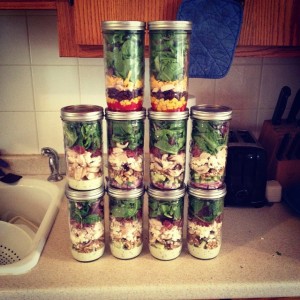 I think it's time to fill you in on my Mason Jar journey.
Planning lunches has always been difficult for me. I can bust out a week's dinner plan pretty easily, but half the time I forget that lunch even exists. I usually end up scrambling around last-minute to make my husband's sandwiches, and then wind up eating the portion of macaroni and cheese that my kids didn't polish off at lunch time. I think, though… I think I've found my solution.
Now, if you've ever fallen down the chevron-painted, pallet-studded rabbit-hole that is Pinterest, you'll have noticed a few pictures of mason jars, artfully packed full of greens, vegetables, and very healthy-looking vinaigrettes. This, my friend, is what is known as a "mason jar salad…" or MJS if you feel like abbreviating things.
I've been eyeing these for a while now. The idea is that you buy, chop, cook, and pack a week's worth of salad ingredients into these whimsical glass jars and enjoy the convenience and tastiness of a custom-designed salad every day of the work-week… without having to put forth any effort at the time.  About a month and a half ago, I decided to do it.  So far, I've successfully put together 10 salads for my husband and I three times out of those six weeks… and I'm calling that a success.
Rather than go through an entire step-by-step process (because my food photography is ABYSMAL, I want to share some really helpful MJS links, as well as a few of the things I've learned during this (still ongoing) process.
Basic breakdown, helpful links:
There's a basic structure to these salads that's the same in many posts:
Dressing
Hearty Vegetables
Less-hearty Vegetables
Protein
Cheese
Greens
What goes on between the hearty vegetables and the greens can vary according to the source, but your most important task is to separate the dressing from the greens. This will keep them from wilting.
Check out these posts from Simple Bites, Organize Yourself Skinny, and Popsugar. They're pretty extensive in their directions, and much better at food writing than I. You can also follow my Pinterest board as I continue on my quest toward mason jar domination.
Things I've Learned:
– One 16 oz. clamshell of spinach and one 11 oz. clamshell of pre-washed romaine leaves (not hearts) seems to be the perfect amount of greens for ten salads; five for me, five for my husband.
– I appreciate the health benefits of spinach, but also need a little crunch in my salad… so I've found that the best solution is to get the pre-washed leaves of romaine (I use Earthbound Organic), rather than a bag of romaine mix or romaine hearts. The bag of mix never stays as fresh, and I do not have the time tear apart, wash, and dry those hearts.
– Four medium sized boneless, skinless chicken breasts, baked in the oven, is the perfect amount for ten salads, plus one night of tacos when you heat up the leftover chicken with canned beans, corn, and seasoning.
– If I went back in time, I would get on the internet and find wide mouthed, quart-sized jars. I could only find pint-and-a-half wide mouthed jars in the store, so I bought them… because patience is not my strong-suit. When I pack a pint-and-a-half jar totally full for my husband, it's just the right amount of food… but he has to dump it into a separate container in order to actually eat it. I imagine that if I put the same amount in a quart jar with a wide mouth, I'd be able to mix it all up with a good shake, AND eat right out of the jar.
– My first ingredient after the dressing is always the onions. I've found that, when they're chilling out in the dressing, they don't fill the whole jar with the taste/smell of onion. Not that that's a bad thing… I suppose it depends on your feelings about onions.
– Don't try to spread this process out. I like to cook my meats (usually chicken and 1 lb. of bacon) in the morning and chop/assemble ingredients in the afternoon. Try to set aside a solid chunk of time to get all of your salads put together, rather than work on it all day long. I tried that the first week, and I ended up with three partially assembled salads and a bunch of ingredients in my fridge.
Someday…
Someday, I'll sit down and write a for-real MJS post with actual pictures, I promise. In the meantime, I hope the links and my tips are helpful, and I genuinely hope you take the Family Dining Pledge!
Also, if you're interested, you can heck out a few of the other participating bloggers:
CoolestMommy, Liv Laugh Love, Sensory Mama Saving Cents, Mom Saves Money, Making Mine, Oh My! Omaha, Family Fun in Omaha
Real Talk:
I was contacted by Live Well Kids Omaha to blog about Omaha Family Dining Week. I am being compensated with a $15 Hy-Vee gift card, as well as one to give away to one of my readers. I was also compensated  with a fresh, homemade batch of warm-fuzzies.