When I was in college, I was lucky enough to find the perfect (part time) job.  I, of course, didn't realize at the time that I was living the dream, but now I sometimes find myself desperately missing it.
In 2006 (someone please correct me if I'm wrong), I started working at this wonderful little place in Kearney, NE, called Elements.  I say "place" because there's not one right way to describe it.  It had an art gallery and studio, counselling, life coaching, yoga, massage therapy, and the most delightful little café you ever did see.  I was mainly responsible for making hot tea and serving customers, while the other two ladies worked in the kitchen like culinary bees, crafting soups, sandwiches, wraps, and desserts that were all natural and mostly vegetarian.
Guys, I miss these days.  Most of the customers worked at the university, and many of them were my English professors.  What could be better than getting paid to scoop out precious teaspoons of exotic loose-leaf tea, while listening to some of the people you admire most in the world talk to each other about whatever it was these academic beings felt important enough to talk about?  Not a whole lot.  At least in the world of part-time college jobs for an English/Theatre major, anyway.
During this time of my life, I learned a lot about myself.  I learned that there were many kinds of people in this world, and a lot of them had some VERY different opinions and lifestyles than what I thought to be truth.  I learned that obligation and guilt are not the right reasons to stay with a person, and that opening yourself up to a little hippie magic isn't going to hurt a thing.
I miss the vibrant paintings on the chocolate brown walls, the absolutely gorgeous Yoga studio, the smells of steam and garlic and Moroccan lentil stew simmering away on the stove.  I miss helping customers browse through the little retail section, and seeing people leave their massages looking like they could float out the front doors.  I miss hearing Weezer or K.T. Tunstall playing in the kitchen while dishes clinked and knives chopped.  Elements was a sweet, warm retreat for intellectuals, free spirits, and people who simply needed a haven.
There were many flavors that filled those rooms, and some of my favorites could be found in the scones.  They were both dense and light, if that's possible, and welcomed whichever ingredients Helen or Rikki decided to put in them that day.  One of my favorite flavor combinations was Ginger Peach.  Can you imagine the smells in the morning?  Coffee brewing, Mango Ceylon steeping for the day's batch of iced tea, and hot Ginger Peach scones cooling on the counter.  I'm telling you, it was practically a spiritual experience.
I asked Helen if she still had the scone recipe, as I wanted to make a batch for book club.  Amazingly (actually, it wasn't surprising) she gave me the recipe by memory, and the scones were definitely a success.  I had to make a few changes of my own, since I had to work with the ingredients that I had, but they provided the sense memory that I was hoping for, and I think they might now be my go-to baked good recipe.
Now, if you guys can excuse my low-quality photos and fumbly food writing, I'd love to share this recipe so that the warmth of Elements can spread into a few kitchens and keep the dream alive … even if just a little bit.
Cherry & Ginger Scones: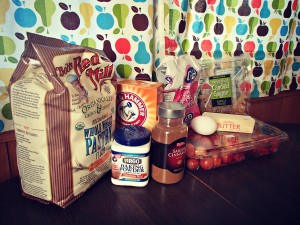 2 Cups Flour
1/3 Cup Sugar
1/3 Tsp. Baking Soda
1 Tsp. Baking Powder
Dash Salt
1 Stick FROZEN Butter
1 Cup Chopped, Pitted Cherries
½ Cup Chopped Candied Ginger
1/3 to 1 Cup Yogurt
Ground Cinnamon, to taste
***
Preheat oven to 350 degrees.
Sift/stir together flour, sugar, baking soda, baking powder, and salt.  Gently grate entire stick of butter into dry ingredients, mix with hands until blended.  Try not to overmix; you want to keep the butter as cool as possible.  It will be clumpy.  Also, grating the butter will be slightly annoying and you may grate some of your fingernails into the butter.  If this happens, simply carry on and don't tell anybody.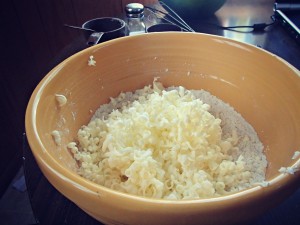 Make a well in the middle of your dry ingredients and add the egg and yogurt.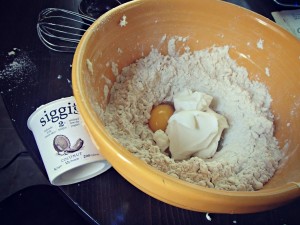 I had a cup of Siggi's coconut yogurt in the fridge, so I used that.  Siggi's is kind of a weird Icelandic-style yogurt that is VERY thick and pasty.  I ended up using the whole personal-sized cup in the recipe, but I think that if you were using regular yogurt (or even a not-so-thick Greek Yogurt), 1/3 would be plenty.  Stir it all together, and then add your cherries and ginger.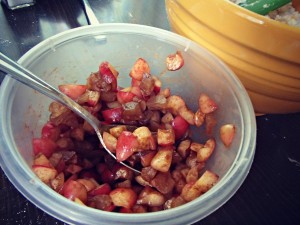 I like to put the fruit and ginger in a bowl and stir it up with a bunch of ground cinnamon.  Also, I used Ranier cherries instead of peaches, because I had a giant flat of them in the fridge.  Mix it all until you reach a moldable, but not too sticky, consistency.  I like to mold the dough into an evenly-shaped log, put it on my parchment paper, and cut little triangles out of it, like so: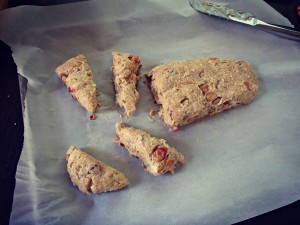 Next, throw 'em in the oven and cook them for 30 minutes, or until lightly golden brown.  At Elements, we had some homemade (butter and powdered sugar, maybe?) frosting that we spread on by request, but these are still tasty without anything on them.  I like to slap some butter on them when they're warm, and I'll bet lemon curd would be awesome, depending on the fruit/mix-ins you choose.  Either way, put them in your mouth!  …After they've cooled down a bit!  Please don't sue me for a burnt tongue!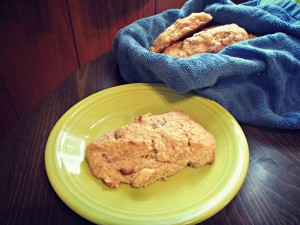 The beauty of this recipe is that it's only lightly sweet, so it will work well with almost any ingredients you want to add.  I made a batch today using 1 cup of raisins, a handful of chocolate chips, and a whole carrot.  I imagine you could do one with scallions, cheddar, and bacon, too!
***
Just like these scones adapt to whatever you choose to mix in them, Elements welcomed all types of people through its doors.  This place felt like home to me for almost two solid years, and I feel charmed to have been a part of it.
As with all things that are built by multiple hands, there were some less-than-pleasant times at Elements … but those times are not the ones that I choose to remember.  I will remember the hilarious looks on the faces of customers after I explained how to use a Neti pot, or the pleasant, comforted feeling of watching one of the owners, with her dark pixie haircut, sweep the floors in the mornings.  I'll smile when I think of the almost embarrassing sounds that people made when they tried the butternut squash soup, and of the gaggle of women who would cheerfully head back to the studio for their group art lesson.
I'll always hold the mornings close to my heart, because I so loved readying the café for the day while our favorite group of wise, jolly men chatted about the weather or the art on the walls while they drank their coffee.
I was meant to walk through those doors and hand in that application.  Elements helped shape me into the person I am today, and I am so grateful for that.
I also totally got scones out of the deal.  You just can't beat that.
***
I would love for you guys to add your favorite Elements memories to the comments, if you've got them.  I know I'm not the only person who loved that place!  OR, if you've got memories of ANY place, I'd love to hear those, too!