I'm posting this week's guest post in hopes that all of my readers haven't melted away…Our lovely guest this week is Heidi Moyer, a dazzling domestic goddess with blogging skills to boot. Once you get a batch of her homemade popsicles made, you should probably bring a couple over for me.
Yeesh, it's been hot. Duh, Heidi it's summer. There is always relief in sight, as long as freezers continue to exist in our realm, and too, the desire to eat something cold, cold, COLD.
Popsicles are an excellent choice to help chill you from the inside out—great for kids and adults, alike. But I always feel let down when I get to the market and begin looking at ingredients, it usually starts out something like this: Water, sugar, corn syrup, high fructose corn syrup, juice from concentrate, natural flavorings, ice structuring proteins, contains 10% juice…I could be exaggerating but I'm not, this list is from none other thanPopsicle brand popsicles website. So, is my toddler supposed to suck on one of these chemically sweetened hyper-sticks? Em, no.
Homemade popsicles will delight your kids and you, and you won't be trying to figure out how to cut sugar from the rest of their meals to balance out the bad ingredients. And can you say "smarty-pants"? Only because these babies are so easy to make you'll wonder why you ever bought them from the store to begin with. If you don't have a blender, just get two different flavors of yogurt smoothie, although, the fresh fruit flavor of the second layer is very tasty. All you need besides the ingredients is a popsicle mold, mine came from the friendly dollar aisle at Target. (Now you're thrifty and smart!)
Pastel Popsicles
Needed: 1 container of Kefir (or other Probiotic yogurt smoothie) in any flavor, ½ cup vanilla yogurt, ½ cup frozen strawberries, food processor or blender, popsicle mold—most molds need approximately 2 cups of freezable liquids, you can always eyeball to make more if needed.
Preparation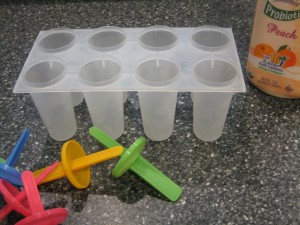 1) Shake, and then pour Kefir half-way up into the popsicle molds
2) Cover with plastic wrap (without sticks stuck in) and freeze for 2 hours
3) Remove popsicle molds, the Kefir should be softly set
4) Blitz together the vanilla yogurt and frozen strawberries, pour into molds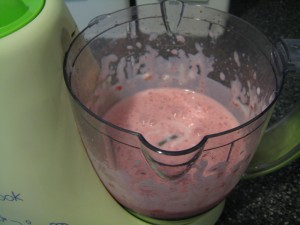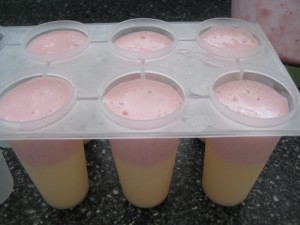 5) Place the stick-handles into the molds
6) Freeze for 3 hours before serving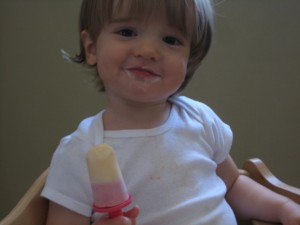 Heidi Moyer is a stay at home Mommy to Vail, and wife to Eric, and writes as often as she can for her food blog at www.thekitchette.blogspot.com.