Today's a day of positive thoughts, productivity, and a warm beverage recipe to prepare you guys for the upcoming Winter.
Now, call me a wannabe-yuppie, but I love me some Starbucks. I don't care who knows it.
So, of course, my fellow Starbucks lovers understand the unbridled excitement that overcomes them when Fall rolls around… all thanks to the return of the Pumpkin Spice Latte. As it's now November, you may think that talking about this seems a little tired… I, however, say, "Nay! Now is the perfect time to talk about Pumpkin Spice Lattes!" Why?
Because by November, your wallets are probably a little tired of forking out the dough to support your pumpkin habit.
A few weeks ago, I set out to try a Pumpkin Spice Latte recipe I found (with much better photo quality than mine) on Pinterest. My in-laws were in town, and since I always clean them out of their cappuccino mix and whipped cream, I thought I'd let them be the guinea pigs.
I pretty much stuck to the recipe, but I did change a few things. Here are the ingredients you'll need:
Strongly brewed coffee, or espresso if you've got the machine.
Milk (in whatever form you like: 2%, Almond, Soy, whatevs)
Unsweetened pumpkin puree
2 tsp. Pumpkin pie spice
1 tsp. Vanilla extract
Honey
I'll warn you, when it comes to things like this, I tend to just throw it together…I needed to make 3 lattes, so I needed more than what the actual recipe called for. I'll try to be as accurate as I can…
Now, when I set out to make this, I realized that I didn't have any pumpkin pie spice… After a few moments of irrational grumbling, I then realized that I can make it myself. Here's what I used:
1 tsp. Ground Cinnamon
¼ tsp. Ground Nutmeg
¼ tsp. Ground Ginger
¼ tsp. Ground Cloves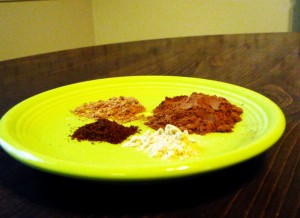 Find yourself a cute little container and fill it up with your tasty blend of spices…then measure out about 2 teaspoons for your lattes.
Throw about 2 cups of milk, ½ a cup of pumpkin, your spices and vanilla, and a good squeeze of honey into your blender…blitz it till it's nice and smooth. If you want to use a sweetener other than honey, by all means do it. I thought the honey went well with the cinnamon, and made the drink feel even warmer than it already was.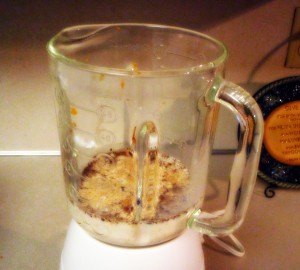 Now toss your pumpkin milk into a saucepan and heat it on LOW until it's the temperature you're looking for. If you heat it too quickly, it will curdle and make you want to throw up a bit… It takes a little longer, but LOW is the way to go. You could also microwave it, but we don't have a microwave…so, you're on your own there.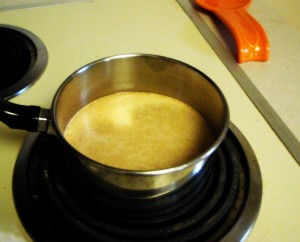 I filled up a couple mugs halfway, then filled the rest up with my coffee.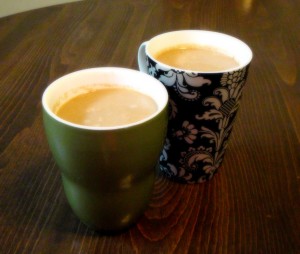 And then, of course, I topped it with a healthy amount of whipped cream, and a little sprinkle of the pumpkin pie spice.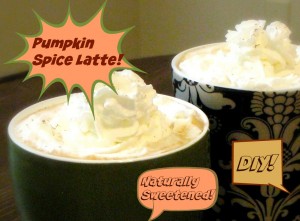 Overall, I'd say it was a success! Paul's parents were happy with it, I was happy with it, and I was able to make 3 lattes for cheaper than 1 would cost from Starbucks. I might even say it tastes just as good as the real thing…but we all know that walking in to Starbucks, unwrapping your scarf, taking a big whiff, and wrapping your hands around that cardboard sleeve is pretty hard to beat.