When I was younger, there were certain items in my life that became fixtures. They were always there, and I remember registering them in my brain for most of my childhood… and then finally interacting with them.
My dad was a high school Theatre teacher when I was littler, and I remember seeing two video tapes on the bookshelf in his classroom: Live recordings of the Broadway musicals Sweeney Todd and Pippin. Sweeney Todd was in a heavy plastic black and red case, and Pippin was in an 80's-tastic blue cardboard case, with a picture of a beautiful blonde man with long curly hair lying down on some kind of stone altar. (Watch, I'm going to go look it up now and it will have been something completely different than I remember.)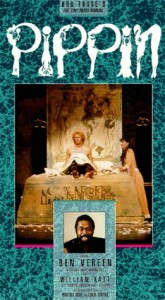 Yeah, okay. So I was mostly right.
When dad stopped teaching, the videos came home. (That sounded really dramatic… he just got a new job and brought his stuff home, nothing cryptic or anything.) I remember finally asking to see the shows, and watching Sweeney Todd about 5 million times. Pippin, however, I didn't watch as much. I think that, despite its fantastical appearance, it was a much heavier show than Junior High Lauren was prepared for. I was pretty in to That 70's Show at that time, so the philosophically heavy stuff was especially not on my radar.
I'm excited to see Pippin as an adult. I've done a little research on the plot, just to familiarize myself, and it sounds like the perfect thing to see right now. In Pippin, the title character is on a quest to find meaning in his life, and ends up discovering true happiness in an unexpectedly domestic setting. Now, that's greatly simplifying things, but I don't really want to give too much away.  In the meantime, I'll leave you with the particulars, and fun video to watch.
Performances of Pippin at the Orpheum:
March 3, 4, 5 (Tuesday, Wednesday, and Thursday) at 7:30 pm
Friday, March 6th at 8:00 pm
Saturday, March 7th at 2:00 pm and 8:00 pm
Sunday, March 8th at 1:30 pm and 7:00 pm
Tickets are available at Ticket Omaha, by phone at 402-345-0606, or at the Ticket Omaha box office inside the Holland Performing Arts Center
Kids Night on Broadway
As part of a program designed to introduce kids from ages 9 to 18 to live Theatre, the Orpheum is offering a limited number of tickets at 50% off on the night of Tuesday, March 3rd. The limit is two tickets per adult, and can be obtained by using the code KIDS NIGHT at Ticket Omaha.
What is Pippin all about, anyway? (VIDEO)
Just so you know, I've been compensated by Omaha Performing Arts with two tickets to the performance of Pippin. All words and thoughts and nostalgic musings are mine!