There have been plenty of changes around here in the Bonk household.
One of the biggest, though, is my back. Specifically, my upper back. It turns out the mysterious and glamorous world of being a barista is pretty cool, and also pretty hard on your upper back region.
The thought of getting a massage has been floating around in my brain for a few months now, but where was I to go? I was planning on using my hard-earned tip money, and wanted to make sure I spent it at the right place. Most of the massages I've experienced felt good, but were fairly impersonal and often at a massage chain.
For once, however, my procrastination and indecision paid off.
Enter Tina Wilson, LMT to order a latte during my shift and save me from my plight.
Tina owns a small business called Special Kneads LLC just a few storefronts down, and her business' motto is "Massage for Everybody."
I don't know what it was about her… whether it was the clever business-naming abilities, her warm and down-to-earth nature, or a combination of the two, but when I was done chatting with her, I knew exactly where the money in my tip jar was headed.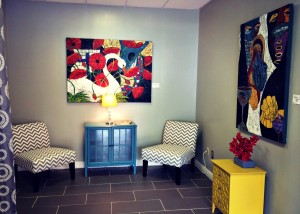 The actual massage experience was just what I was hoping for. The reception area is bright and open, with a big picture window facing the street. Local art is hung on the walls of this surprisingly large space, which made me feel welcomed and excited.
I'll admit to being a little concerned about the bright atmosphere when thinking ahead to my relaxing massage, but I was happy to find a dimly lit and peaceful room waiting for me.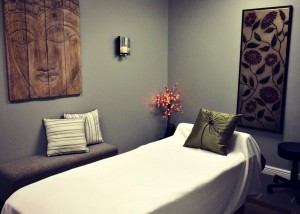 Tina displays a demeanor of both professionalism and warmth, which is the perfect combination for a massage therapist, in my book. The massage itself carried on with the pattern that I noticed throughout the entire experience; a pleasant mix of function and relaxation. I had mentioned certain parts of my back and shoulders that were bothering me, and she did not shy away from working out the kinks while also providing a relaxing massage.
Normally, I prefer a little more pressure when I get a massage, but since I knew I would be writing about it, I wanted to get a feel of the standard offering… and I can tell you it's just the right mix of restorative and relaxing. Tina made it known that my communication was welcome during the massage if I needed changes in pressure or anything else that ensured my comfort.
While the massage itself is of course important, I wanted to make sure I highlighted Tina herself, as her responses to my questions were so very genuine and heartening.
ME: Why did you decide to go into Massage Therapy?
TINA: I chose massage therapy because I was drawn to alternative healthcare. This was largely in part to my mother, who later in life chose to go to school to become a Physical Therapist Assistant. As part of her training she had a massage class and so I was exposed to the health and healing benefits of massage at a young age. I would sometimes give my Mom a back rub (not knowing what I was doing) and she always told me I'd be good at it. I've always been interested in anatomy and physiology, but was not necessarily interested in becoming a nurse or a doctor, so massage therapy was a good fit for me. It was a way to be part of healthcare without being in a conventional setting.
ME: What is your favorite part of the job?
TINA: My favorite part of the job is seeing the look of post-massage happiness on peoples' faces when they come out of the room after a session. There's no greater feeling than being able to provide relief to people in pain, or relaxation to people whose stress has made living life difficult. I've seen people hobble in and walk out straighter and smiling. Or pregnant mothers that waddle in with looks of pain on their face come out as if they're floating on a cloud. That gives me goosebumps. That makes what I do worth doing. I'm a firm believer that there is a ripple effect that occurs after getting a good massage. If you feel good, then you're more likely to be in a better mood or be able to carry out your tasks of the day with a better attitude. This can lead to all sorts of positive reactions like being more patient with your kids, or kinder to strangers. I know massage isn't the only thing that can cause this ripple effect, but it sure helps.
ME: Why did you choose Benson (in Omaha, NE) as the location for Special Kneads?
TINA: I chose Benson for my location, first of all, because the space itself was bright, beautiful, clean and handicap accessible. The way it is setup was perfect for a massage business, and I just couldn't pass that up. In addition to the space itself being what I was looking for, I loved the idea of being part of a community that is growing and improving and so supportive of local businesses, art and music. It is a good feeling to be part of good change in the area, and to see the transformation as improvements take place. I also love the diversity of the Benson area. I see every color of the rainbow and every age walk past my place. It is always interesting. I've had people who have lived in Benson for years stop in just to say hi and to see what we do here and some have even thanked me for opening here. The area has a great energy.
ME: Can you tell me a little about your outcall services?
TINA: I named my business Special Kneads LLC, because I specialize in working with people who have a wide range of "special needs". I work with people who have developmental/intellectual disabilities, spinal cord/brain injury, or degenerative conditions like multiple sclerosis. Some of these individuals come in to the office location assisted by their caregivers and some of them choose to have me travel to their location because it is easier or the person is more comfortable in their own setting. Sometimes the setting is their home or their day service setting. The bottom line is we adapt to the needs of the client.
One thing I want the public to know is we don't work exclusively with the special needs population. Our tagline is "Massage for Everybody". This means we work on everybody and every body. No one is excluded. So whether you have no pain issues and you just want a relaxation Swedish massage, if you have chronic pain and are in need of Trigger Point Therapy, or you are pregnant and are in need of a Prenatal Side-Lying massage, we can help you. We love working on all types of people.
I don't know about you guys, but that's the kind of person I want to trust with my massage.
I'm so pumped to have met Tina, and fully plan on sending anyone who asks straight on over to Special Kneads… which leads me to this: Tina is offering all of you awesome readers $15 off any hour or longer full-price massage service for the month of June. In order to get the discount, simply schedule your appointment online using the PROMO code: PENANDCURTAIN. This offer cannot be combined with any other offer or discount, and does not apply to outcall services.
I seriously hope some of you take advantage of this offer… whether it's a gift for yourself or someone you love. The massage I got at Special Kneads, of course, was wonderful, but it was Tina and her business that ultimately had me floating on a cloud.
Support local. Support good people. Support yourself by getting an awesome massage.
Disclaimery Schtuff:
I was compensated by Special Kneads, LLC with a discounted massage that was tooooooootally wonderful.  All ideas and non-interview words are my own.